Introducing our new album The Gambia Sessions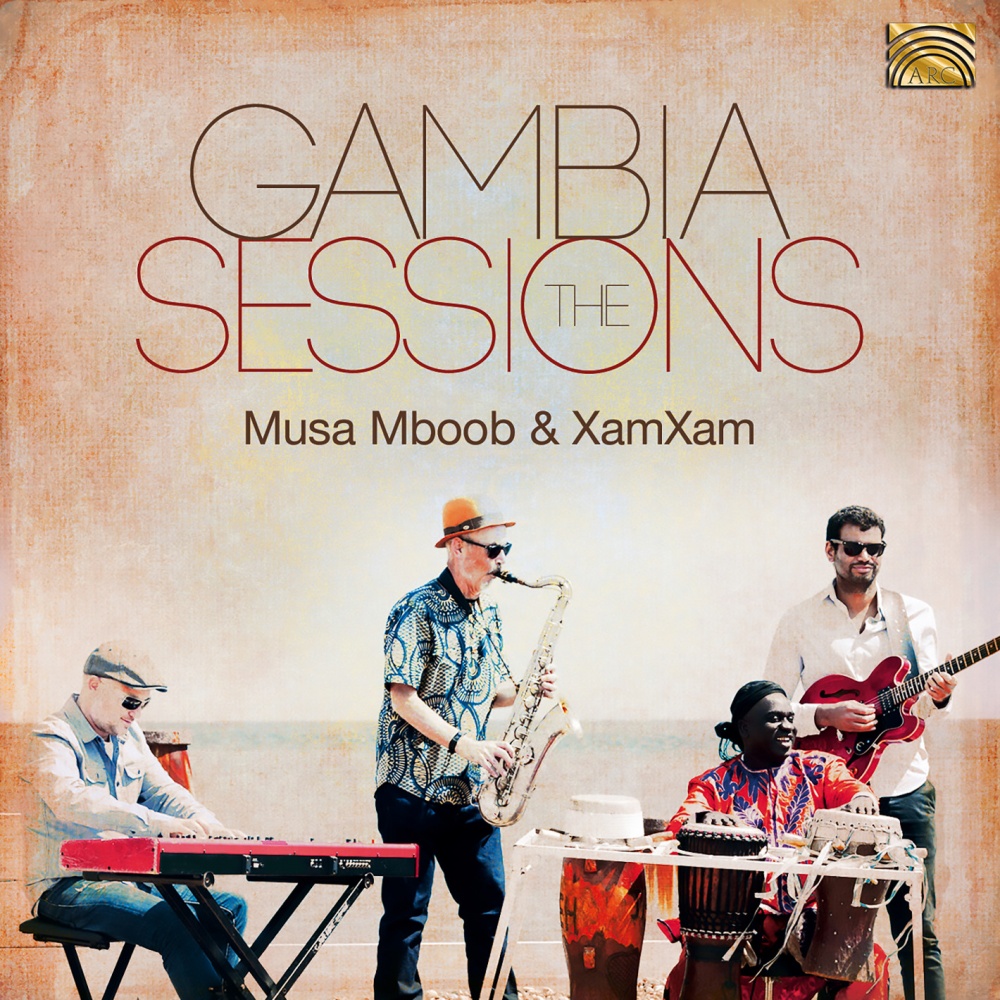 Featuring:
Musa Mboob - percussion, vocals
Tom Phelan - keyboards
Luke Rattenbury - electric guitar
Tom Fairbairn - bass guitar
Guest musicians:
Lena Badjie - backing vocals on Tumaranke, Chossan, Silafandor, Ndoliwo Ndoli, Jahalnama, Yarabi
Senami Taylor - 2nd keyboard on Tumaranke, Butum Belle, Silafandor, Jahalnama, Yarabi
Andy Pickett - sax on Tumaranke, Chossan, Ndoliwo Ndoli, Jahalnama / sax and flute on Yarabi
Linda Atkinson - clarinet on Chossan, Jahalnama, Yarabi
Label: ARC Music Productions International Ltd.
Recorded at Alliance Française de Banjul Studio, Serrekunda, The Gambia, March 2017.
Production: Musa Mboob and Emmanuel OJ Rendall Wole
Engineering: Emmanuel OJ Rendall Wole
Mixing: John Halke
Mastering: Diz Heller, ARC Music
Songs:
Tumaranke
Moving to an unknown place is a big commitment and change in life. In my own experience of travelling I have seen many people who live or sleep on the streets, which has moved me deeply. These people deserve our support, thoughts and love.


Chossan
Chossan means 'inheritance'. As Africans, we need to go back to our roots; our tradition in Africa is disappearing slowly and we need to do something about it. There was a time when people looked to nature for herbal remedies to cure illness, but nowadays people are turning their backs to nature. There was a time when our parents used to tell us stories after dinner before going to bed. This was like home schooling and instilled discipline within us.
Butum Belle
In African countries, the way people used to dress would signify something about them: who they were, their place in society, whether they were rich or poor. There was a time in Africa if you had a big stomach everyone would think you are rich, and you were well regarded. In the song I see an African girl, who says "na butumbele she one tow" ("I fancy a big belly man, full of love")

Yarabi
Yarabi means 'peace'. Only peace can help us to be safe. Our responsibility is to build communities that are safe, strong and prosperous.
Ndoliwo Ndoli
Elders used to sing this song to children as a way of teaching them responsibility. With this song I am also advising my beloved country of Gambia to work together, as this is the only way we will achieve progress and development.

Jahalnama
I am shocked by events around the world today. Everyday something will happen to upset, hurt and worry people. Everyday people are sent to jail for their crimes, but still we are not safe. I believe human beings should not his fellow human being.
Jarindarey
It is not easy to live in the West without correct documents. If you need to see a doctor, they need to see your papers. If you want to deposit money in your bank, they need to see your papers. Only the correct papers will make you fit in properly.
Silafandor
I'm singing in Mandinka that no-one lives forever, therefore we should treat each other with kindness, and compliment each other. I sing about a time when I arrived as a guest in a new village, and I said to my host "my hand luggage is full of incentives, where are the family?"
Bonus tracks
Samina (Watching After Cattle)
After many lonely hours' vigil, the cattleman develops a rapport with his herd. The movements and sounds the heard make become like the rhythms played on the drums.
Journey
Travel through rural Africa with an open heart and you will meet village people who treat you as one of their own, especially the children.
Musa Mboob & XamXam aim to bring you the perfect blend of traditional West African music with a modern twist.
Musa Mboob made it his aim in life to continue the family tradition of playing percussion and promoting traditional music from The Gambia. In 2007 he took a group of musicians to The Gambia where they worked with four different tribes, each with their own distinct style. Upon returning to the England he set up the band XamXam to showcase the new music that was created from this project. Over the following years Musa developed the band playing a number of live shows around the UK.
In 2017 Musa returned to The Gambia with a different group of musicians and once again returned with a collection of new songs that capture the Gambian vibe. Throughout 2017/18 the band showcased the music from the album The Gambia Sessions. To prepare for the album release Musa took the band to The Gambia in early 2019 to work on the live set. While there they played a number of gigs, meet up with local musicians and fine tuned the live sound to get it just right. Watch out for more live performances around the UK and Europe throughout 2019/2020 as we promote the album.
   Visit our Facebook page for more information here: facebook.com/Musa.Mboob.XamXam